The executive governor of Anambra State, His Excellency, Willie Obiano and popular Nigerian musician, Flavour, on Friday visited and supervised the completion of Stanel Oil ultra-modern luxury facility in Awka, Anambra State which is now 100% completed and expected to be commissioned soon.
Gov. Obiano who stopped over at the site after commissioning road construction and street lights projects in the area applauded Stanel Oil Chairman, Stanley Uzochukwu for his effort in bringing such a gigantic investment to the state.
The governor was accompanied by his wife, Dr (Mrs) Ebelechukwu Obiano, the state chairman of the ruling APGA, members of the National and State Assemblies and other dignitaries.
Stanel Oil ultra-modern luxury facility, Awka branch will be officially commissioned in few weeks and would be graced by many state governors, political and business heavyweights from across Nigeria.
The facility is strategically located between the state owned university, Nnamdi Azikiwe University and Anambra State Women Development Centre along Enugu – Onitsha expressway, Awka, Anambra State.
In his remark, the Governor expressed satisfaction on what he saw on ground and commended the effort of the Chairman/CEO, Stanel Oil, Mr. Stanley Uzochukwu for being patriotic enough to put up the huge investment in his own state, saying the facility is the first of its kind in the history of the state and noted that the project would add great value to the state's economy in particular and Nigerian economy in general.
"This is the first of its kind in Anambra. I met Stanley over a year ago when he showed me a picture of what he could do and what he already done in Jos, Plateau State. I was impressed and invited him to come down and do something like that here in Awka, his state capital having received a good report from a spy on his facility in Jos.
"Without wasting time, he responded and we gave him this plot of land duly approved by the government for the project and he kicked off immediately.
"I am particularly impressed with the speed with which he has completed this project in just one year. The facility has 1.5 million liters capacity that would sustain the state for up to 3 months of fuel scarcity. The worshipping Chapel is another unique aspect of the facility. It is unusual to have a chapel in a gas plant facility.
On job employment, Obiano said "the company has already engaged over 700 thousand youths in different capacities and the people that would enjoy the Chicken Republic, French Bakery, Farmers' market and whole lots of other services are the Unizik students population and people within the environment.
Expressing joy and satisfaction over the facility, popular Nigerian music icon, Flavour, who simply described the facility as "Europe in Awka" said he was very impressed and proud.
His words: "I am very much impressed with all I have seen here. The place is well equipped and up to European standard. In short, this place can better be described as 'Europe in Awka.'
"I am particularly impressed because I must confess that before now, there was no facility like this in the whole of Anambra and Awka in particular.
"After the commissioning of this project, the negative impression of some people that Awka is a 'village' would change and that will make me proud.
"I am optimistic that the commissioning and operations of this gigantic facility will go a long way creating awareness to the people of Awka and their friends that the face of Awka is speedily changing," Flavour added.
Delivering a speech as the quest speaker of the occasion, Chairman/CEO of Stanel Oil, Mr. Stanley Uzochukwu said the facility was a 'one stop' one' where everything is available and not just a usual filling station.
The oil magnet said, "in the Awka branch of the Stanel Oil ultra-modern luxury facility, Anamberians and passersby could find different customized products and services that are compared to none in the country. The facility has the capacity of 1.5 million litres, capable of sustaining the state for 3 months in times of fuel scarcity.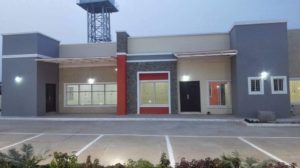 "We have farmers' market here where all types of fruits, food stuff and soup ingredients are bought and sold and can be delivered on request at the appointed time using our awaiting delivery vehicles by our team.
"Stanel Oil had also acquired Chicken Republic's franchise and also bringing a French Bakery on board to operate within the facility to carter for the needs of travelers, drivers, students and Awka residents in terms of fast food and joints to make this place a reference place in Awka.

"Also to make it more unique and compare to none in Awka and Anambra State at large, Stanel Oil, Awka branch has about one thousand sitters capacity worship Chapel within the facility, a proof that in God, we stand.

"It is also worthy of note that Stanel Oil has started the production of its, tyres, engine oil and gas cylinders of different sizes that meet international standards and all of these shall be found within the facility as well as Nigerian markets after official commissioning in a matter of weeks' time.
"Stanel Oil Car Maintenance Centre is a 'car clinic' where cars could be serviced and the best in the country and one of the top 10 best in Africa with modern equipment obtainable anywhere in the World and the services are available in the Awka facility.
"We also offer automated car wash and delivering services and we will ensure that our customers' satisfactions are met at all times. These services shall be rendered 24/7 non stop and those are the areas we will make the difference.
"We have supermarket, in-house pharmacy store, ATM machines where buyers can easily access funds, bridal store, French bakery coming on board, shopping mall, warehouse, big conference meeting rooms, lubb plant and staff quarters, to mention but few. Summarily, it is a 'one stop' facility where you have everything," Uzochukwu said.
Stanel Oil Opens new ultra-modern luxury facility in Anambra State